After unpacking it all it was clear that this was a nice bit of kit. Audio wise the phantom powered condenser mic is a cardioid pattern and sounds clean with no background hissing. You need an audio interface or a mixer with +48v phantom power in order to make it work but if you're looking at buying one of these for recording vocals or getting your podcasts sounding better you may already know that. If you don't but you want to learn more please get in touch! We can help you with your podcast recording, editing and hosting.
The shock mounts are sometimes a point of contention with some of them being poorly designed so that they don't pinch the mic enough and the mic ends up slipping or falling out the bottom. Not with this one. The shock mount also does well in its purpose - to isolate the mic from any mechanical noises such as floor vibrations, table knocks or when moving the boom arm.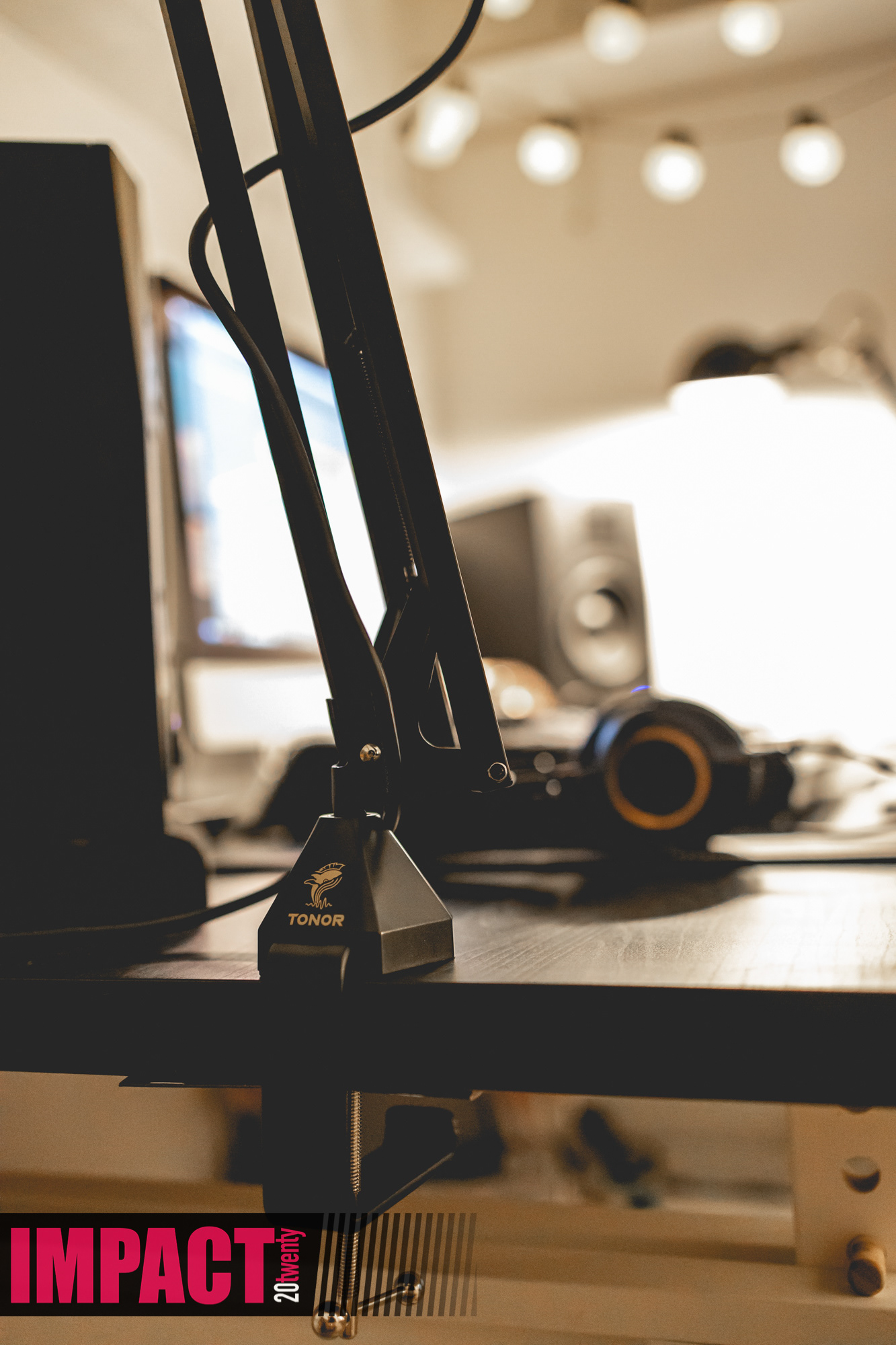 We thought the boom arm was going to be flimsy and not take the weight of the mic but it's well made and well sprung. The table clamp which you unscrew to loosen and then tighten up to the underside of your desk is nicely weighted with a padded foam layer to prevent it marking your desk and fits the boom arm fits snuggly. The pop shield arm is flexible and clamps on to the boom arm securely. If you don't like the pair of tights style pop shield filter the kit also comes with an on-mic filter. Pub Quiz knowledge - Pop shields are used to reduce or eliminate the popping sounds caused by the mechanical impact of fast-moving air on the microphone during recorded speech and singing that occur particularly in the pronunciation of 
aspirated
plosives
 (such as the first 'p' in the word "popping"). Now you know!
Issues?
Not really....I mean there is one (small) issue. The supplied XLR lead is a bit short but if that's the only problem then it's not worth worrying about. I just thought I'd bring it up so you didn't think you'd get meters and meters of cabling with it. 
Do you want to learn more about our Podcast Management? Drop us a message below.